Mobile Twin Shaft Mixer / Mobile Wet Mix
The BUFFALO Mobile Twin Shaft Mixer (BMTS) is new to the BUFFALO product line in 2018. Its unique design can transform your existing dry-batch concrete plant into a wet batch plant with minimal modifications to your existing batching structure.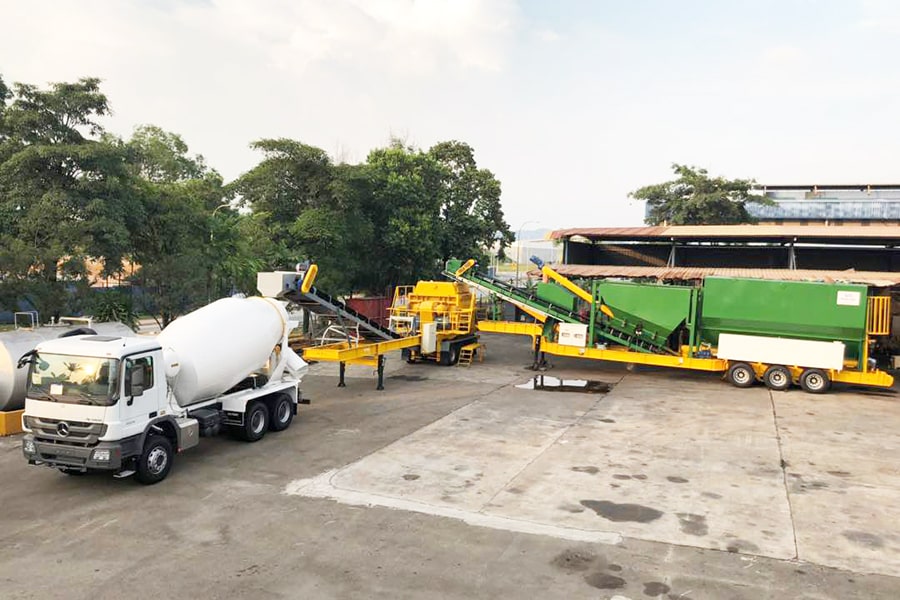 The BUFFALO Mobile Twin Shaft Mixer (BMTS) when used together with our Mobile Dry Batch Plant can give a low profile design and can be orientated at any angle to the centerline of the plant to suit your site layout.
The BUFFALO Mobile Twin Shaft Mixer (BMTS)
• Wide conveyor belt which allows for fast truck charging
• Customizable discharge height
• Fast installation
• Easily transportable
• Easy access for cleaning, inspection, maintenance and service
• Adjustable discharge gate
• Heavy duty 3-axle trailer with adjustable legs
• The low profile of BMTS allows the setting up under a typical dry concrete batch plant with minor modifications to the discharge section of the plant.
Mobile Wet Mix Model Range
Models Available
Mixer Type
BMTS-2000
BMTS-3000
BMTS-4000
Twin Shaft Mixer (SICOMA or buyer's preferred choice)
Feeding Capacity
3,000 lt
4,500 lt
6,000 lt
Compacted Concrete Output
2,000 lt
3,000 lt
4,000 lt
Mixer Motor Power
2x37 KW
2x55 KW
2x75 KW
We can customize the mixer type/model to suit your output requirement.